Lightfair 2018: Self-powered Switch in the Spot Light
At one of the largest lighting trade shows, everything revolved around LED as the ever-present lighting source. However, an energy-efficient light is no longer the major demand; the market is heading toward human centric lighting. This makes our self-powered switch the perfect fit for personal control whereas maintenance-free sensors deliver the needed data for automation depending on the current situation.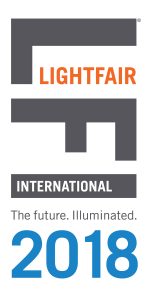 Walking the 200,000 square feet of exhibit space, LED was everywhere. Different designs, palettes of color-changing options, all shades of brightness and spot lights. The energy-efficient technology becomes more and more a tool individualizing our environment according to our needs, moods and circumstances; the core of human centric lighting.
Self-powered control
For all of this, you need controls which are easy-to-use, immediately available and offer more than just on/off – bringing the self-powered switch into play found at numerous booths at the show. Visitors could experience how to control, dim, change color of LED lighting using a batteryless wireless switch, powered by their finger tap. Here, functionality was the focus. The switch was shown in multiple wireless protocols, EnOcean, Bluetooth® Low Energy (BLE) and Zigbee.
Switch as a sensor
At Lightfair, the switch also played a key role in automation solutions for retrofit projects. Replacing an old-fashioned switch with a wireless one let the switch develop from a simple on/off device to a data point delivering information to the automation system. Using a self-powered switch, installation- and maintenance-effort is reduced to a minimum, enabling roll-out of an automation system in large retrofit projects at reasonable costs and without producing a pile of battery waste. Solar-powered presence detectors spread throughout rooms perfectly add to the switch by delivering the needed data for individual control on demand.
Several of our partners, exhibiting at the show, emphasized the well established EnOcean wireless standard for retrofit and new construction projects. They presented how they roll out EnOcean-based devices into simple systems as well as complex control systems connected via Power over Ethernet, IP or WiFi.
Talking Bluetooth®
In the Intelligent Lighting Pavilion, Bluetooth® Low Energy Mesh lighting control systems were present all over – with numerous of our partners like Casambi, Fulham, Silvair and Xicato demonstrating our self-powered wireless switch as part of their Bluetooth® lighting system control solutions.
(to learn more, have a look at the blog article Bluetooth Control in a Fraction of a Second – Powered by Yourself)
Key technology
This year's Lightfair showed that EnOcean is a major partner enabling a key technology for a sustainable smart lighting control. The list of exhibitors who showed products from EnOcean at Lightfair reads like a Who's Who of the lighting industry, including Philips, LG, Fulham, Siemens, Phoenix Contact, Samsung, Molex, Casambi, Silvair, Wirepas, Xicato, LumEfficient, Future Lighting Solutions, Mirus Lighting, Functional Devices, Nordic, Autani, etc.
And finally
Looking forward from Lightfair 2018 it appears that smart lighting is fast becoming the data backbone for the Internet of Things (IoT) and many other intelligent services – and it all starts with a switch.