10 Years of EnOcean Alliance – the Way to a Leading Building Standard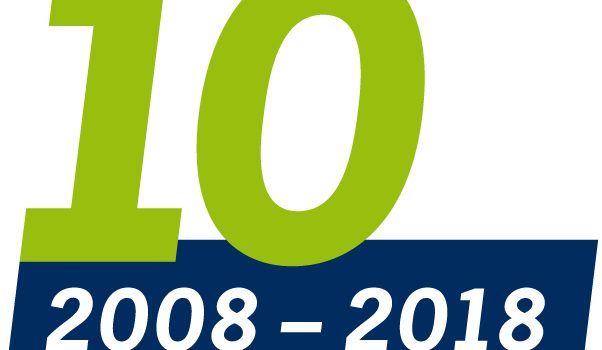 This year, the EnOcean Alliance celebrates its 10th anniversary. We spoke with Graham Martin, Chairman of the EnOcean Alliance, on the organization's success story that started at Light+Building 2008, initiated by seven visionary companies. 
Graham, what was the idea to form the EnOcean Alliance?
The goal was to establish innovative automation solutions for sustainable buildings. There was a high market demand on easy-to-install, intelligent systems in order to make buildings more energy-efficient, more flexible and less expensive to operate. The forming companies were convinced and numerous successful projects have also approved that the best way to meet the demand are self-powered wireless products. However, the need for comprehensive, interconnected systems covering all building areas resulted in the logical move to join forces in a strong ecosystem that provides vital exchange and ensures interoperability of products from different vendors – the EnOcean Alliance was born.
How has this ecosystem developed over the past ten years?
Today, the Allian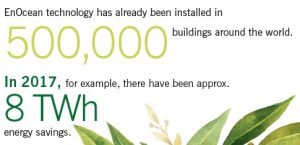 ce has over 400 members who offer morethan 1,500 interoperable products and solutions based on energy harvesting wireless technology, using the EnOcean standard. Self-powered solutions are deployed in 500,000 building projects.

They have saved 11,250 years of installation work up to now, thanks to their wireless flexibility as well as man-years of changing batteries due to their maintenance-free operation. Additionally, we established the international open standard ISO/IEC 14543-3-10/11, the self-powered wireless standard for sustainable buildings using energy harvesting wireless technology.
What are the benefits for the EnOcean Alliance members?

Alliance members can work together and exchange with each other to shape and develop the technology to access new business areas with energy harvesting wireless solutions. Furthermore, they can use the specifications created to speed up and reduce cost of product development. Our Technical Working Group, which creates Technical Specifications and documentation, enhances and improves the standard; for example with EnOcean over IP solutions for the IoT and cloud-based smart and cognitive buildings. The group regularly meets by phone and in person throughout the year. In addition, our Marketing Working Group amplifies the marketing of individual members with promotion and education on the standard and EnOcean-based solutions.
What are the ecosystem's benefits for the users?
First of all, th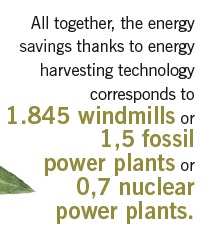 e self-powered technology's major advantage is its maintenance-free operation throughout the products' complete life cycles. Wireless solutions powered from kinetic energy, light or temperature differential saved billions of batteries and thousands of kilometres of cables – associated with up to 40 % of energy, installation and maintenance savings. In addition, users benefit from the choice of multi-vendor product interoperability, lower costs, faster time to market of new developments as well as the long-term stability and availability offered by an open interoperable standard.
What were the milestones in the last 10 years?
A key milestone of the EnOcean Alliance is interoperability. This was a core target from the very beginning by introducing Interoperable Communication Profiles and ensures that different members' products can work together. Many other milestones followed, such as the introduction of remote commissioning and management in 2014 or the EnOcean over IP specification last year as well as the certification programme as a future-proof compliance tool.
What is coming in the next 10 years?
Building automation is an area of our lives that is undergoing a fascinating transition. It evolved from automated buildings (1980-2000) to smart buildings (2000-today), which respond in real time to sensors indicating occupancy, temperature and light levels etc. Due to an increasing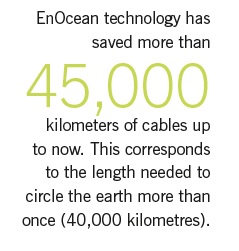 digitalization in the last three years, buildings started to move to cognitive, self-learning environments where sensor data is analysed and used to maximise the users' comfort and well-being, resulting in a more efficient working atmosphere, for example.
However, there is still huge scope for building automation to drive efficiency in building use. The majority of offices are only 60%-70% occupied during a working day and the majority of Real Estate is used less than 50% of the time. Savings of 20-30% space and energy = running costs is possible through workspace sharing: creatively using office space during business travel, holidays, periods of sickness and other absence.
The EnOcean Alliance and its members are very well prepared to accompany this development by offering highly flexible, self-powered solutions as well as system knowledge to educate the market and users on the future possibilities of sustainable buildings.
Thank you very much, Graham.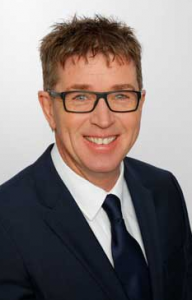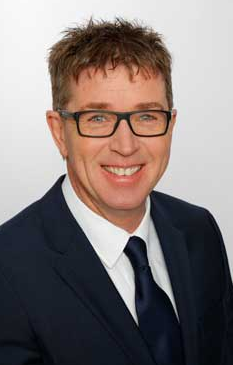 Graham Martin is Chairman and CEO of the EnOcean Alliance. He is a veteran of the electronics industry with many years of experience in RF solutions, engineering and marketing. Being an expert for sustainable buildings, he also looks at the future role of standardized wireless automation systems including the Internet of Things.