EnOcean Switch Design Kit – for custom switch design 3D printing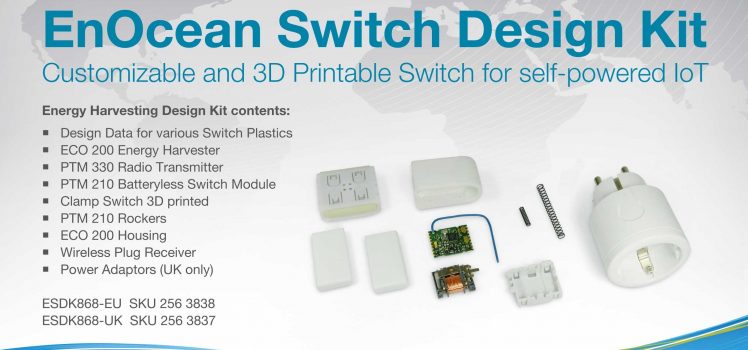 Easy and cost-effective
The EnOcean Switch Design Kit (ESDK) is aimed primarily at the maker community. Makers need attractive prototypes that can be produced as quickly as possible with the least amount of effort. While the implementation of a housing used to require a design expert and an outlay of several tens of thousands of euros for building the tools, anyone can now create their own prototype over the weekend. This is made possible by a freeware CAD program and a 3D printer Internet café, where the cost of the individual parts required are as little as ten euros.
The ESDK kit contains several EnOcean switch modules as well as a few plastic switch parts as examples and gives users access to comprehensive design data. A socket switch actuator is also included, which can be controlled directly with the EnOcean switches. An unboxing video gives users a first glimpse of the ESDK kit. When used with the other kits from element14, such as the "EnOcean Pi" and the 'Self-powered IoT Solution for IBM Watson IoT,' the switches and tactile sensors can be easily combined with a controller and the Internet. Different IoT solutions and innovative new business opportunities can thus be implemented with little effort.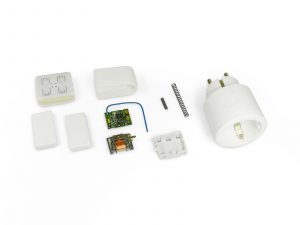 Individual design in four steps:
1. Select the desired switch design from the ESDK user manual and download the appropriate design data from www.enocean.com/en/products/design-data/.
2. Call up the 3D data using an IGS compatible CAD tool. Excellent tutorials for FreeCAD, for example, are available on the Internet, which help you learn how to use the tool overnight.
3. Edit the design, if necessary, and export the data as an STL file.
4. If you do not have a printer of your own, countless numbers of print shops can be found online that will 3D-print your prototype for a small fee. For example, you can choose from among several providers at www.3YourMind.com.
The ESDK kit can be purchased from element14 and is available in the 868 MHz frequency band.