ISH 2019: EnOcean – the heart of self-powered switches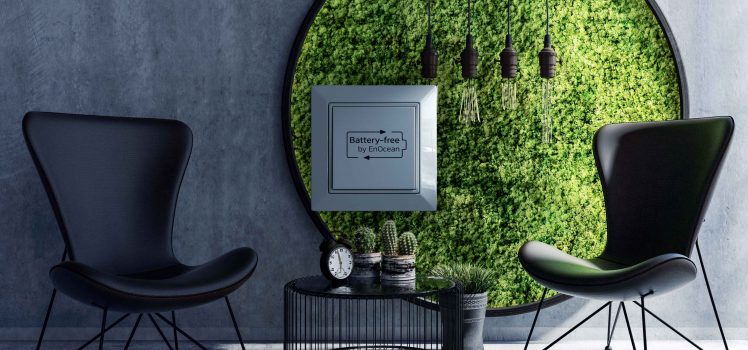 At the ISH 2019 EnOcean will be introducing new solar-powered, maintenance-free sensor modules for a wide range of building data that fit into classic switch frames based on the PTM modular switch system.
Wireless sensors based on the EnOcean harvesting technology are the eyes and ears of the IoT, as they collect the required raw data for intelligent control, without any need of a battery. With the standardized PTM switch module, EnOcean has established an industry standard and the core piece of battery-free switches.
This provides manufacturers the easiest way of product integration, further facilitating the flexible use of maintenance-free sensor solutions in the IoT. The PTM 21x switch modules from EnOcean lies at the heart of self-powered switches.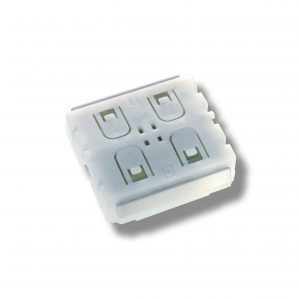 These modules integrate the ECO 200 energy converter and a wireless circuit board. In doing so, they use only the pushbutton's kinetic energy to transmit wireless signals via the three international EnOcean (ISO/IEC 14543-3-1X), Zigbee and Bluetooth standards, depending on the application.
An established industry standard
By choosing a PTM 21x, switch manufacturers do not have to commit to a specific wireless standard when designing their self-powered switches. Thanks to the switch module's standardized form factor, EnOcean has established an industry standard that fits with all common switch designs.
Switch manufacturers can therefore focus on their core areas of expertise and do not need to acquire any in-depth technical knowledge of the energy harvesting technology. This leads to more cost-effective production and faster time to market.
One switch module for three frequencies
When EnOcean launched the first PTM onto the market around 15 years ago, it was initially available only for the EnOcean wireless protocol. Over the past three years, however, EnOcean has strategically expanded its portfolio and now also supports Bluetooth® Low Energy (BLE) and Zigbee. The switch manufacturer Vimar, for example, uses the entire spectrum and offers its products for all three wireless standards. Many leading manufacturers have since added self-powered switches to their product lines:
EnOcean standard: Eltako, Jäger Direkt and PEHA as well as many other switch manufacturers consistently rely on the EnOcean wireless protocol and offer a wide range of switches. The EnOcean wireless standard for the sub 1GHz range is an excellent choice for use in buildings, thanks to its range of up to 30 meters.
Zigbee standard: The Philips Hue Tap has been using the self-powered energy harvesting technology since 2014 to control Philips Hue lamps via Zigbee. Partners in Signify's Friends of Hue program now also employ the EnOcean technology in their smart Friends of Hue switch applications. They include manufacturers of lighting controllers, such as Busch-Jaeger (ABB), Illumra, Niko and Vimar, among others.
Bluetooth standard: In addition to EnOcean's Easyfit switches for Bluetooth, manufacturers such as Finder also offer these kinds of products. The two- or four-channel wireless Beyon switch is a self-powered remote control equipped with Bluetooth Low Energy for the Yesly home automation system.
Maintenance-free and flexible switch solutions that require no batteries or cables make a significant contribution to smart and energy-efficient lighting systems. With its energy harvesting technology, EnOcean offers the right technical support for smart lights in functional buildings and the smart home. Visit EnOcean at ISH 2019 at the EnOcean Alliance booth C60 in hall 10.3.