Happy birthday! EnOcean – the pioneer in energy harvesting turns 20 years old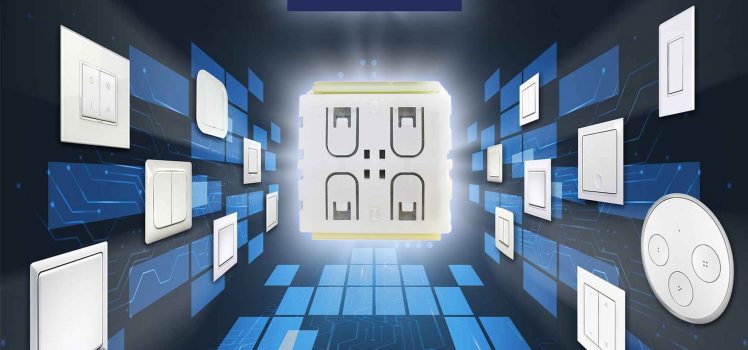 EnOcean celebrates its 20th anniversary in 2021, which means 20 years of energy harvesting! Over the years, EnOcean has become synonymous with battery-free and wireless switches and sensors worldwide. It all started in the spring of 2001 when EnOcean presented its first wireless switches that gained their energy from the press of a button at electrical engineering trade fairs in Germany.
Using piezo-based energy converters, the co-founders developed a module concept that can be integrated into global switch designs. Just as an RJ45 plug grew from a mere telephone outlet into a worldwide standard for LAN cabling and today practically forms the backbone for the Internet, the first modules based on a piezo element have established themselves over time as the worldwide PTM radio module standard with an electrodynamic energy converter. And all this without batteries or cables because – thanks to energy harvesting – the press of a finger, for example, is enough to send a radio telegram. Several million switches are in operation today because EnOcean modules with the original PTM form factor are the industry standard worldwide.
Portfolio ranges from self-powered modules to IoT-based solutions
But EnOcean's journey isn't over. The switches and sensors support not only the radio standard of the same name standardized by the EnOcean Alliance, but also Bluetooth and Zigbee. Thus, the company offers a constantly growing portfolio of self-powered radio modules for every use case, ranging from classic building automation to IoT-based solutions with cloud connectivity for smart buildings. This is made possible by partnerships with companies like Aruba, Cisco and Microsoft that enable intelligent (sensor) data processing without major infrastructure investments.
We're proud that EnOcean has continued to live up to its reputation as a pioneer and innovator in energy harvesting. Even after 20 years, our spirit of innovation has proven its worth and remains unchanged today. We're seeing how through our activities, a sustainable technology such as energy harvesting is taking on an increasingly important role, and in this way, we're contributing to greater sustainability in buildings.