An insight view: Being Intern @EnOcean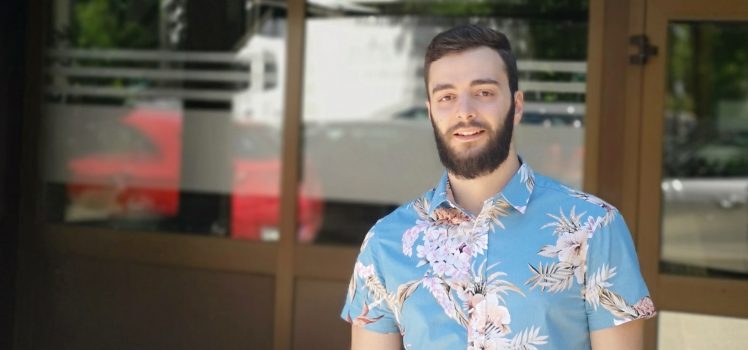 Georges Goudelis (20) is doing a one-year internship in the mechanical department at EnOcean. Close to finishing this practical time, we spoke with him about his experiences.
George, you are intern at EnOcean for 11 months now. Why did you choose EnOcean for your internship?
The internship at EnOcean was listed on the job website of the University of Surrey. It sounded like something very interesting from a mechanical engineering point of view and the self-powered technology struck my interest of course. I was looking for a professional experience in the field of product design including the ability of being creative. The internship at EnOcean seemed to offer exactly what I was looking for.
What's your field of study and why?
I study mechanical engineering at the University of Surrey. It gives the ability of problem solving, being creative in the combination with physical work. I'm really interested in product design; and mechanical engineering is the technological field most involved in that. For me, it's the perfect fit of virtual and physical work. Product design is of course not only mechanical but always combined with electronics and software which opens the view to other fields as well.
Was your study helpful for the practical year in a company?
During my studies, I learned for example about the different materials used in mechanical engineering and their specific characteristics. That was something I could use for 3D printing as background knowledge, for example. In addition, the study guides you how to learn. This is also helpful for practical tasks as you learn how to work more efficiently.
How would you describe the requirements of your internship?
Being intern in the mechanical department at EnOcean, you are also involved in software programming and electronics engineering, getting an insight into all areas. This is an advantage of a small company. The tasks are demanding but I was very well trained and received a lot of background knowledge which gives you the capability of achieving a lot. At the same time, I got used to solve problems on my own and also was required to make decisions. The internship at EnOcean motivates to think, makes your brain confront problems.
This gave me momentum for my professional career and I received valuable insights into the high-tech industry, giving me a better view on the whole picture. I experienced practically that mechanics is not isolated but in close relationship with electronics and software. This was my aim when starting at EnOcean.
What were your favorite experiences during your internship?
My favorite application during my internship was a wind sensor. Originally line-powered, I designed a new housing using a 3D printer and adapted the necessary parts of mechanics, electronics and software to power the sensor with a solar cell only. Now, the sensor measures wind speed wirelessly and is harvesting all its needed energy from light. Another exciting project was the development of an analysis tool measuring the B(H) curve in the kinetic energy converter for optimization purposes.
What are your future plans?
After the year of practical experience at EnOcean I will go back to university to receive my bachelor and master degrees in mechanical engineering. The internship encouraged me to pursue my aim of a career in the high-tech industry with a focus on innovative product design.
What do you recommend other students who are interested in an internship at EnOcean?
Students should be ready for something brain demanding. You are not making coffee; you are working on concrete innovative projects. As it is a smaller company, you will not focus 100% on one field but on a wide range of several engineering fields. Saying that, you get a better feeling of how the company's departments work as well as see all the way from part development to the whole product. As an intern at EnOcean you have many and different kinds of responsibilities. It's not only a desk job but a hands-on job as well.
The teams are very supportive and you feel like being part of a family from the very beginning. They have realistic expectations but push you with challenging tasks. This is good, as it motivates you a lot and gets you out of your comfort zone. You always get a deep background, you can always ask questions and you receive recognition of your work.
Please give five key points which describe best your time at EnOcean.
Challenging in different fields of work
The team considers your input in discussions and meetings
Great explanation of background information
Good mixture of physical and virtual work
Relaxed working atmosphere
Thank you, George, and all the best for your future journey.
Since 2012, EnOcean offers interested students a dedicated internship program for six or twelve months. The students' feedback was always very positive and some of them are working today as engineers at EnOcean. Besides a deep practical insight into the professional field, the internship also aims to give experience of team work and social exchange. This includes joint leisure activities like hiking, bicycle tours or barbecue which is not only fun but strengthens the team spirit.
You are interested in an internship at EnOcean? Please check our website www.enocean.com/en/about-us/career/internship-bachelor-master-theses or get in touch with us career@enocean.com.