Digitization – how will tomorrow's cities look like?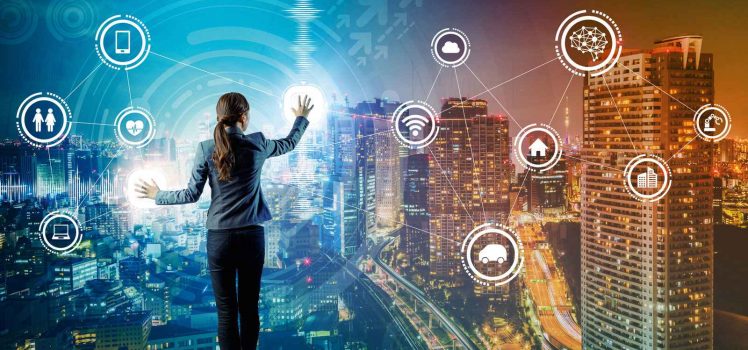 Digitization makes many things possible, but can it also help to meet the huge ecological, economic and social challenges of our time? SB4SC University (Smart Buildings for Smart Cities) addressed this overarching question at the beginning of September 2019. Around 1,000 participants discussed the future of our cities and the role buildings will play at the international congress. Read here a summary of the opening speech by Emmanuel François, President of the Smart Building Alliance (SBA).
Smart cities and smart buildings as response to the challenges of our time
Intelligent and energy-efficient buildings are the key to cities that will continue to be worth living in in the future. Thanks to digitization, we already have the technology to create new ways of working and living. Tomorrow's cities will have little to do with what we know today. Driven by many factors, we are facing profound change.
Climate change makes it necessary to develop completely new approaches to the future design of buildings, cities and agriculture. For example, buildings currently account for almost 40 percent of global energy consumption.
Society must find answers to demographic change. Over the next 20 years, the proportion of pensioners will rise significantly.
The rise in land prices is increasingly driving people out of city centers, resulting in long commuter routes – often more than two hours a day.
For many people, the quality of life has deteriorated – polluted air is responsible for 9 million premature deaths worldwide. More than 500,000 of these are in Europe.
The increasing water scarcity is also posing increasing problems for cities in Europe. In London, for example, drinking water could become scarce as early as 2050.
Companies need to rethink the way they build office buildings and private housings. Too often, space is not planned and used flexible according to actual needs.
Buildings play a key role in energy savings. Not only must they themselves become much more energy-efficient, they will also be networked nodes for intelligent management of the power grids in the future.
Mobility is one of the big issues for the next years. Private cars in particular occupy about 50 percent of urban space. What effects will the sharp rise in the number of electric vehicles have? Our power grids are facing enormous challenges that need a quick response.
The more tasks and processes we digitize, the more important it is to protect this infrastructure from cyber attacks.
Many players, such as banks and insurance companies, have to rethink their business models. In times of a monetary policy that results in negative interest rates, they will only survive if they find answers to this change. Isn't it time they make a massive contribution and use their know-how to support the transition?
In view of all these challenges, we need to break new ground in the planning and construction of buildings and cities. It is no longer acceptable for cities to have such poor environmental performance and for people to cope with noise, poor air quality and too little green space.
In the interests of future generations, let us be innovative and courageous! New industries and services will emerge on the basis of new technologies. The first step is the exchange of knowledge and the networking of completely different actors in order to make the digital transformation socially and environmentally compatible.